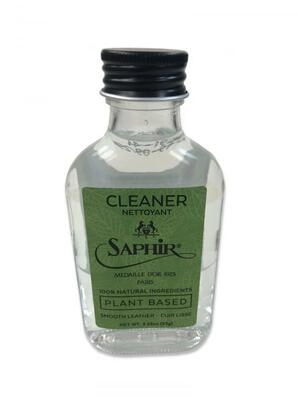 Smooth leather cleaner stain remover of 100% vegetal origin.
The first leather care product entirely guaranteed of vegetal origin. CLEANER Saphir Medaille d'Or allows to clean leather in-depth by eliminating deposits of dirt, waxes, silicone, resin etc...
Easy application with the help of a clean Chamois Cotton Cloth Saphir Medaille d'Or, to perfectly control its effect according to the number of turns made on the grain side of the leather and the pressure applied during the application, which allows to clean while conserving the leather patina.

Remarks:
- Shake well before use.
- Suitable for greasy smooth leather and nubuck.
- Also efficient to clean white rubber soles of sneakers, basketball and tennis shoes etc.
- unclassified product, because it doesn't contain any dangerous matter.