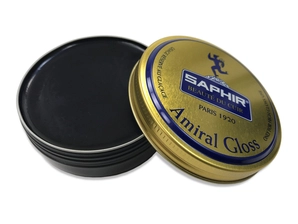 Express glazing. Polish Amiral Gloss Saphir helps professionals and private individuals to succeed this operation even on leather very difficult to glaze. Thanks to the hard waxes and the selected solvents it contains, it allows easy and rapid glazing.
To the contrary of Shoe Polish Pâte De Luxe Saphir, Polish AMIRAL GLOSS Saphir does not contain cleaning or nourrishing components, Therefore it cannot substitute for creams and pastes for everyday care, but it doesn't require mastering a technique to successfully glaze the tips and stiffeners of your shoes. Avoid glazing the areas where the leather creases, because it will not hold.

Remarks:
- Not suitable for leather maintenance, has to be used with Shoe Polish Creme Surfine Pommadier Saphir below.