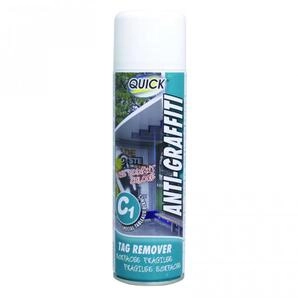 Stripper for graffiti for fragile surfaces like plastic, laminated wood, vinyl tablets, whiteboards. Anti-Graffity QUICK C1 eliminates traces of paint, crayons, lipstick etc..
Shake well, spray on, wait for 1 minute and then rub a Microfiber Cloth below.
Increased efficiency if Antigraffiti Preventor has been used before, see below.

Remarks:
- Average use 8 m² per spray.
- Protect your hands with a Nitrile Glove below.
- Can have a more limited effect on very old graffiti.
- Without chlorinated solvent.
- Also available for smooth or porous surfaces, see below.