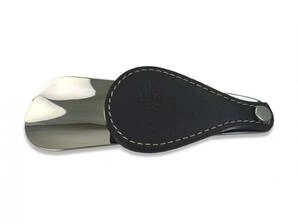 Foldable shoe horn La Cordonnerie Anglaise, ideal for travel.
Nickel-covered steel spatula and leather handle with saddle stitching.
Available with handles in several colours.

Remarks :
- total length unfolded = 19.5 cm
- length folded = 13 cm.
- max.width = 4.5 cm.
- can be personalized with an engraving (see zooms) after adding it to your basket.
Shipment :
next business day
Your unit price for 1 product :