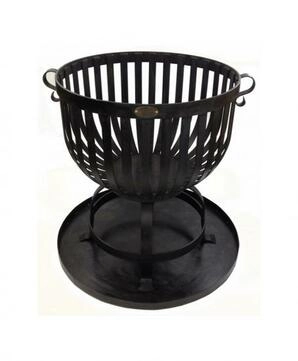 Brazier for wood fire.
Corresponds to the Brazier Valmour Large model, but in a smaller size.
Gives an antique style and a festive atmosphere to a terrace or a garden. 
Made here in Charente by journeymen of thick and very resistant iron with a "gun barrel" patina.
Equipped with a plate to receive the ashes, as well as 2 voluted "ears" for easier transport once the brazier is assembled, even when hot.

Remarks :
- Flat iron section 5 mm, and 8 mm for the bending,
- the base can be dismantled,
- 4 planished feet for a perfect stand on the ground,
- weight 60 kg,
- annual maintenance with Stop Rust Converter below.